Skysong Innovations
Demonstrating how Arizona State University's tech transfer office is making broad societal impact.
Skysong Innovations (SI) is the tech transfer division for Arizona State University, responsible for facilitating IP licensing for technologies developed by ASU inventors. They approached us with three goals: (1) to demonstrate the success and impact of their program to third party decision-makers and influencers; (2) to boost their reputation as a leading tech transfer office; and (3) to increase the visibility of their inventions.
Our solution was to design and develop a 'best-in-class' website that leaves a lasting impression on visitors. We accomplished this through engaging animation, immersive design, and by highlighting SI's remarkable accomplishments.
Discovery & Strategy
Brand Identity
Marketing Materials
Web Design
CMS Development
Third Party Integration




Stories of Impact
We identified a need for SI to draw attention to high-value, relevant stories that would resonate with high-level leadership. Our solution was to feature long-form, visually rich, narrative articles front and center on the home page.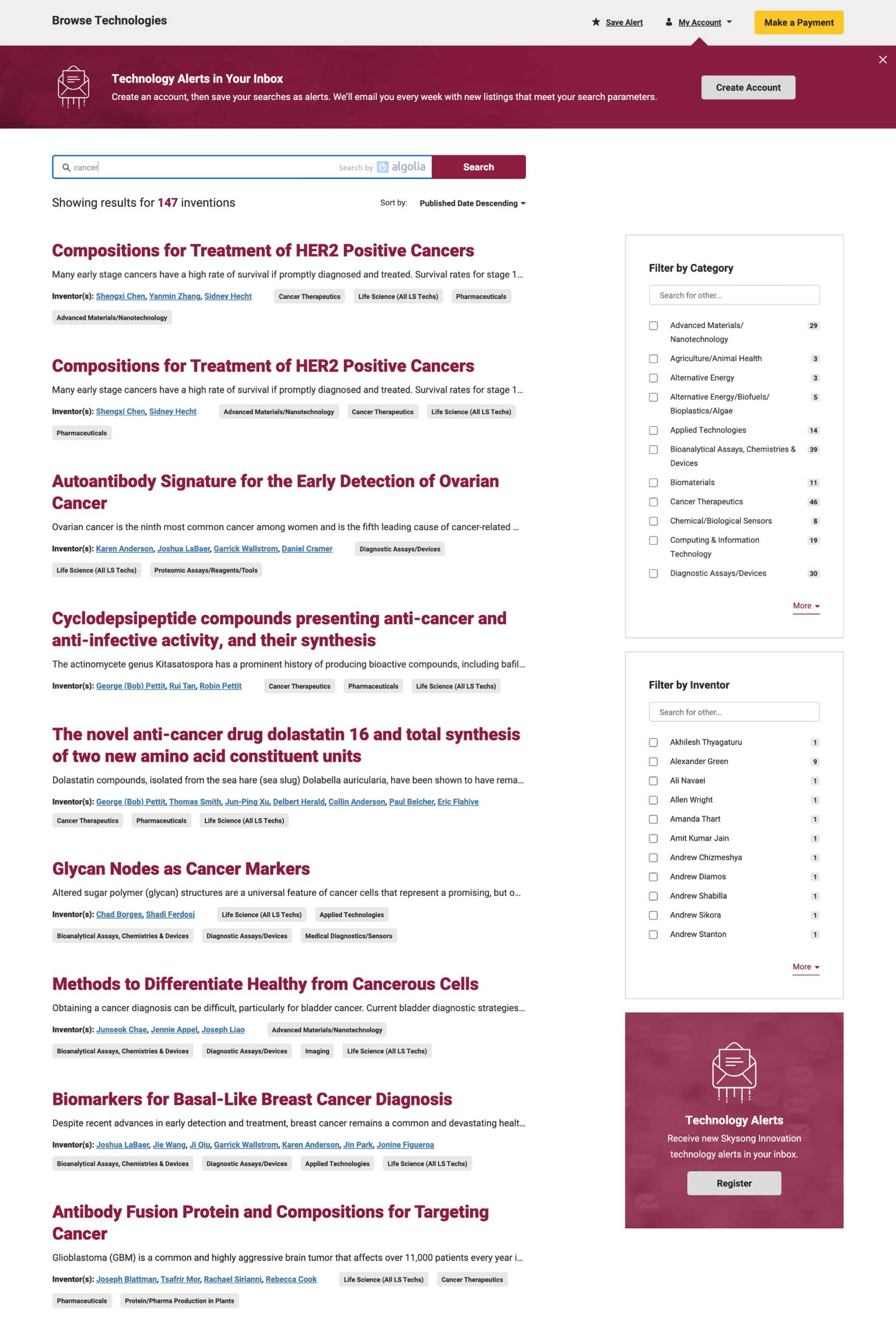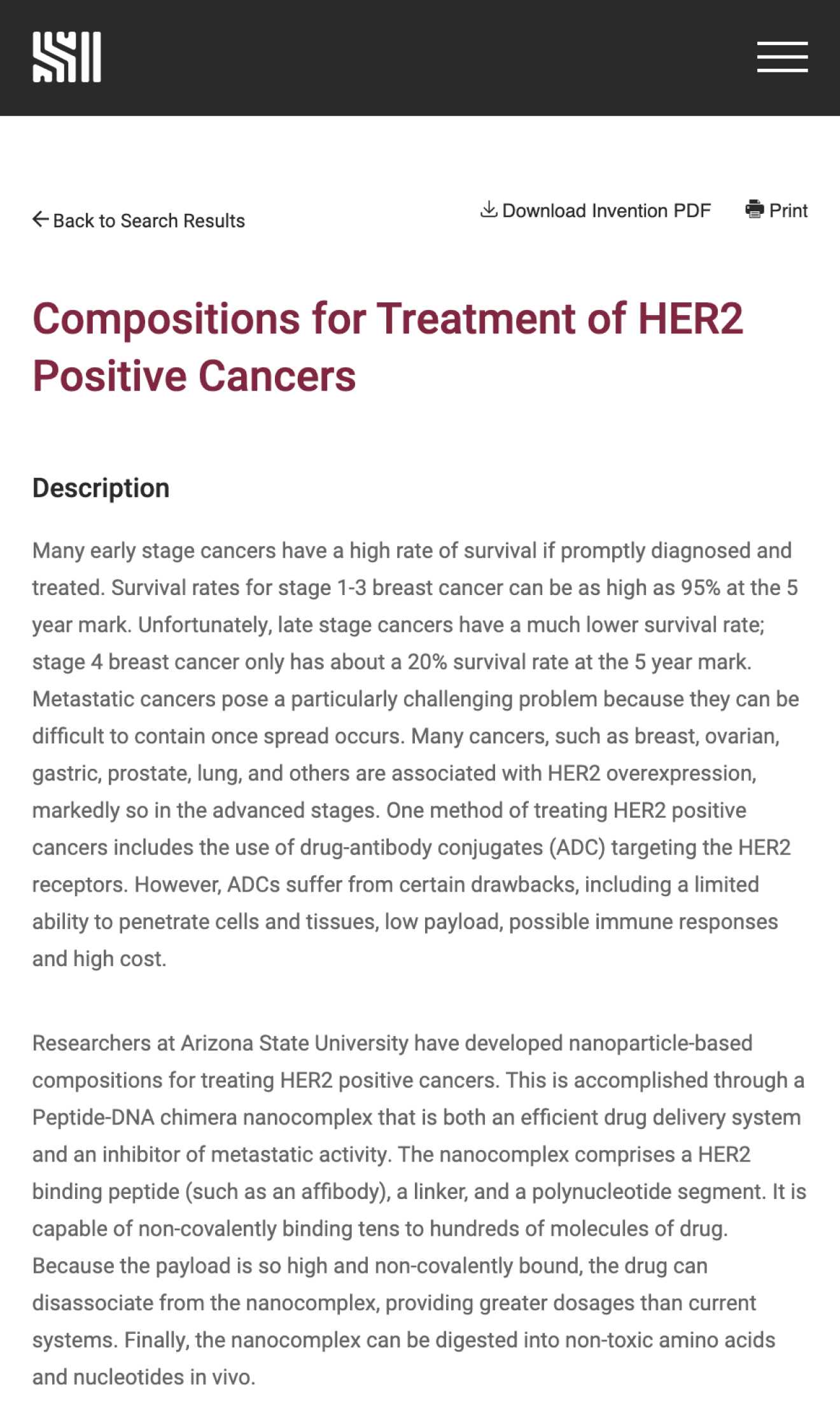 Technologies At Your Fingertips
A custom integration with Inteum, the leading IP management software, allows users to quickly search, sort, and filter the latest technologies from ASU inventors. Users can setup email alerts that are sent when new technologies that match their search parameters are released.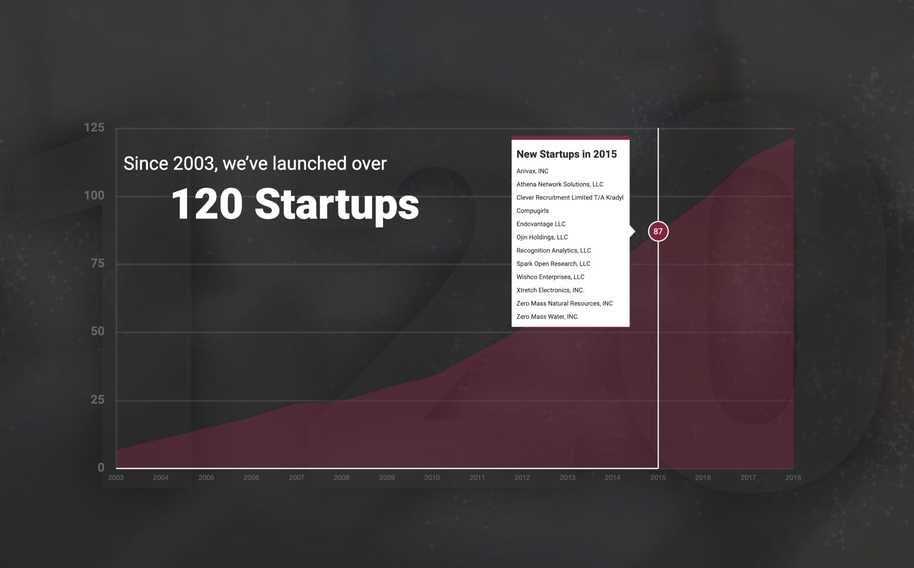 Bringing Startups into Focus
In 2017, SI surpassed 100 startups launched with their support, and that number continues to grow. The cumulative economic impact of these entities is projected to reach $1.16 billion by the end of 2022. We developed several features on the site that would bring greater attention to these startups, including an interactive map.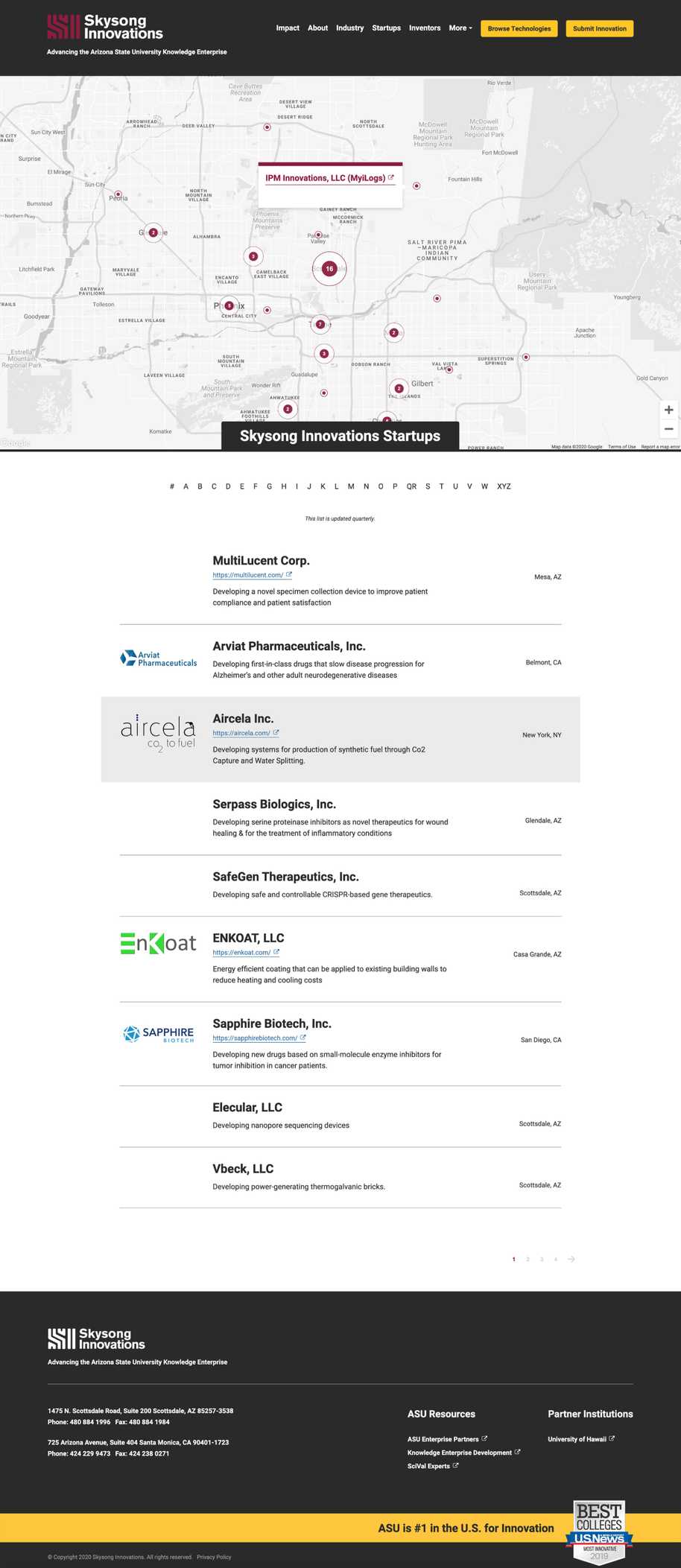 Intuitive Visual Editing
We custom configured Craft Content Management System for a powerful and intuitive editing experience. Editors have the ability to manage nearly every piece of content on the site, while maintaining visual consistency throughout.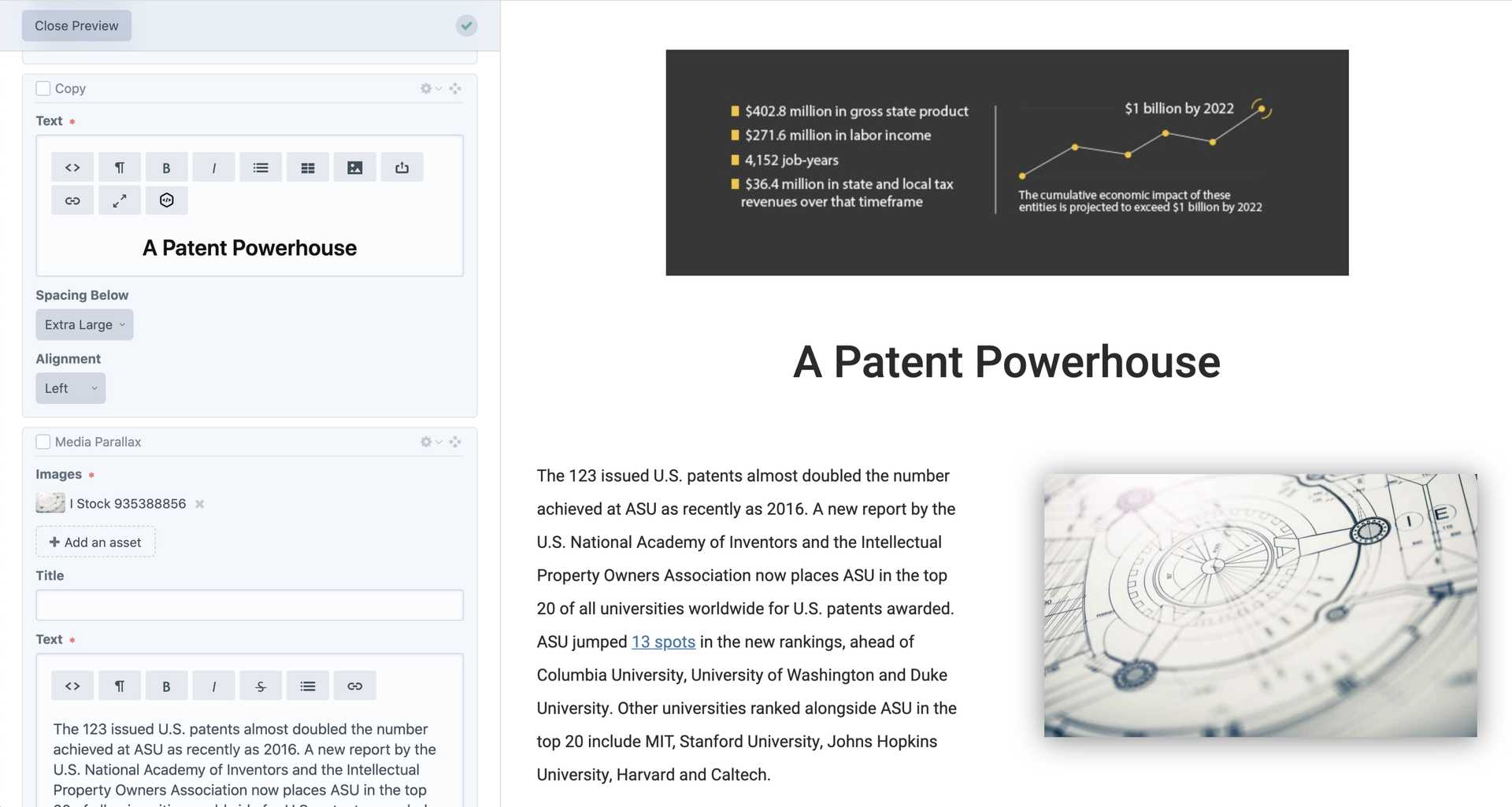 Keeping Metrics Current
A significant way to measure and prove impact is through hard metrics. Since many of these numbers change over time, such as total amount of venture capital invested and the number of startups launched from ASU, we provided a way for editors to update these numbers in one location within the CMS, and have them populated throughout the site, wherever they are referenced.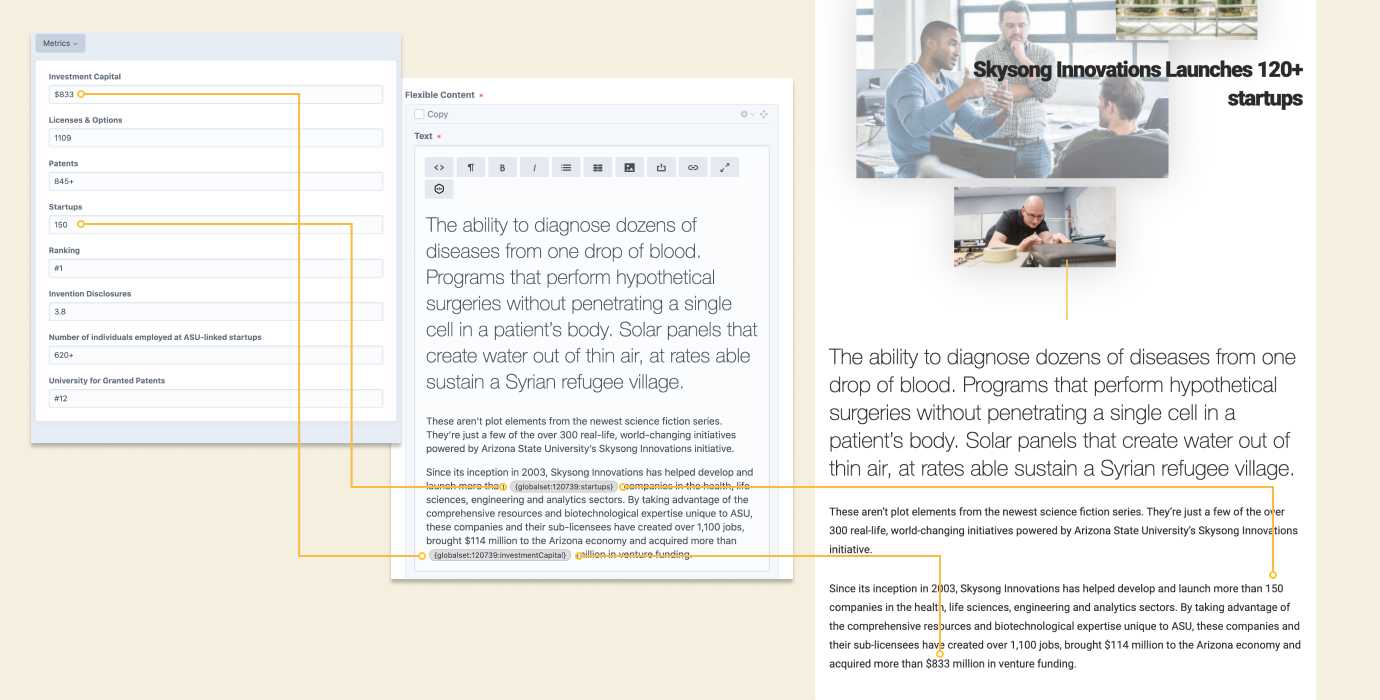 Working with the University of Chicago
Upon launching the Skysong Innovations website, Inteum recommended that the University of Chicago reach out to us to help integrate the technology publisher on their public site. We customized their implementation to allow for a seamless experience for site visitors, powered by Inteum's technology publisher.